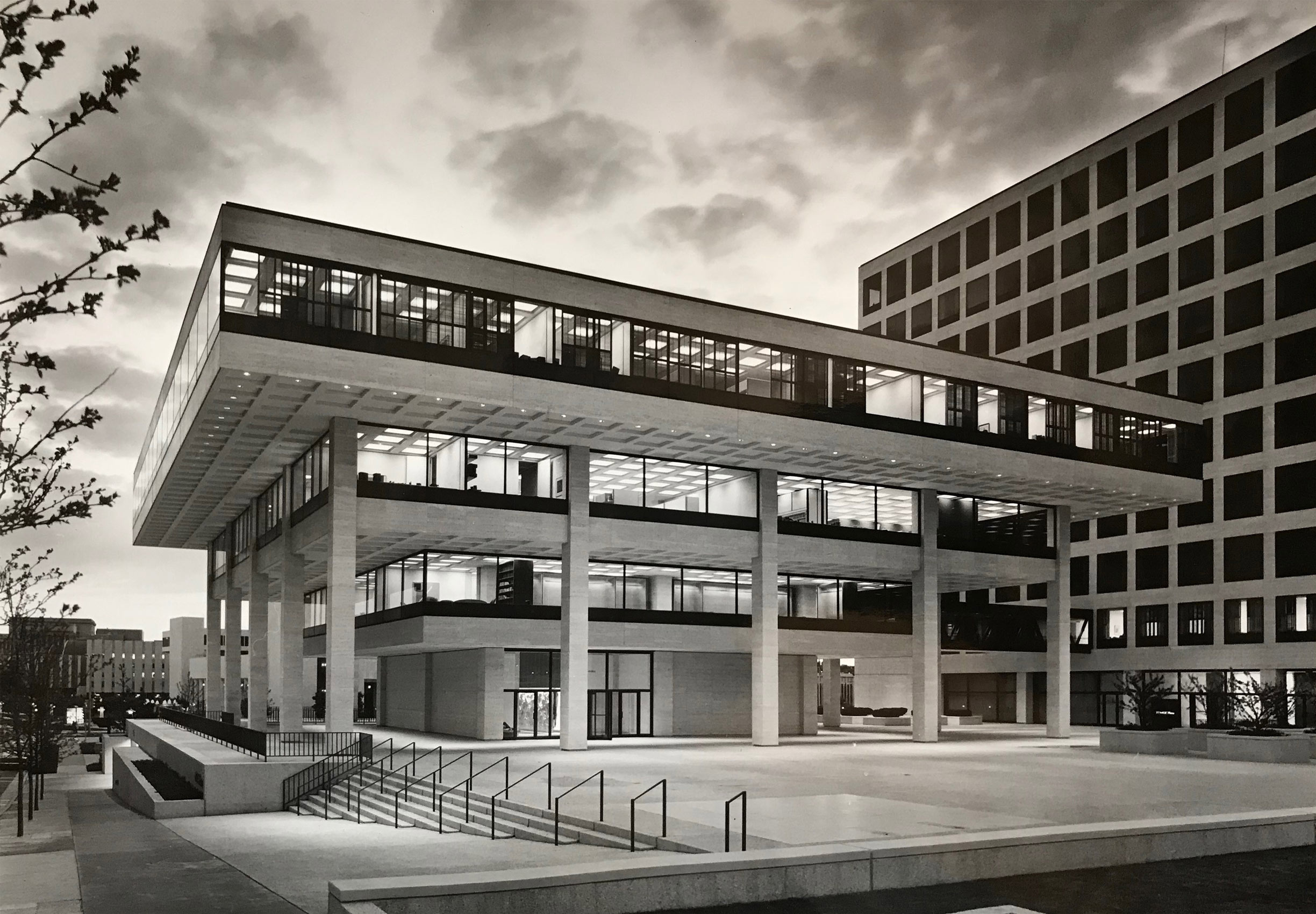 I was commissioned to facilitate conservation and reinstallation of several monumental "textile walls" created by internationally renowned artist Sheila Hicks for Milwaukee's Mortgage Guarantee Insurance Corporation (MGIC) in the early 1970s. Hicks designed the walls in collaboration with interior architect Warren Platner; building architects Skidmore, Owings & Merrill (Chicago) and Fitzhugh Scott (Milwaukee); and MGIC founder and president Max Karl. The textiles were central to their vision of MGIC headquarters as a "complete fabric" of unified structural and interior details that would contribute to Milwaukee's civic development, fostering creativity and humanizing corporate culture. I reconstructed the lost corporate history of the Hicks textiles to help MGIC staff and visitors understand the significance of the installations and facilitate long-term preservation.
Mortgage Guarantee Insurance Corporation, Milwaukee. Photo by Ezra Stoller, 1973.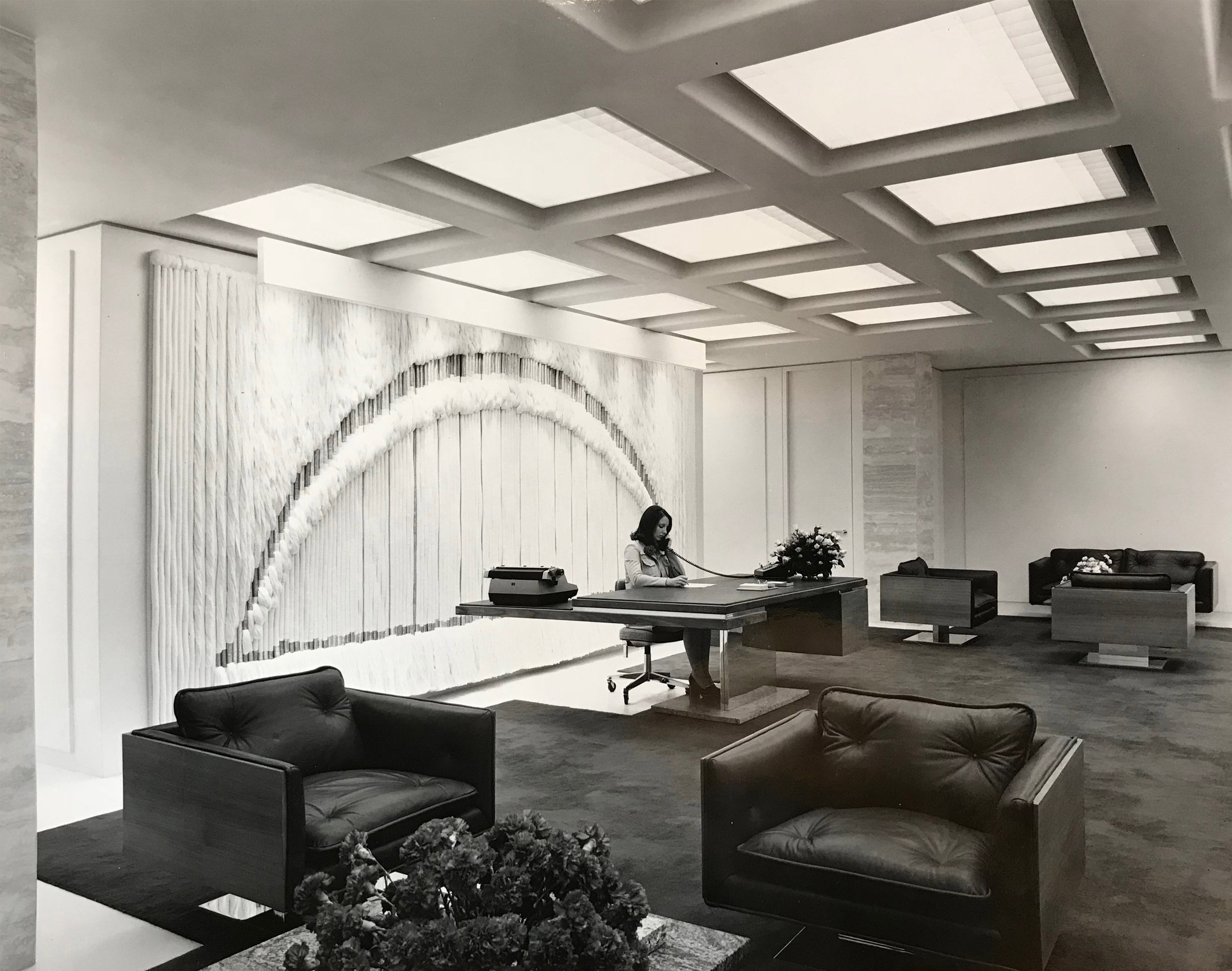 Conceived as integral parts of the building itself rather than art objects hung on a wall, the textiles added vibrancy and warmth to its spare modernist design, greeting visitors in reception areas, gracing executive offices, and projecting power in corporate conference rooms. The textiles' importance to the MGIC plaza design "should not be minimized" noted an executive officer as construction was completed; "in fact, they turn out to be the center of attraction when outsiders visit our building."
Reflections of Versailles, Sheila Hicks, MGIC. Photo by Ezra Stoller, 1973.
The MGIC Hicks commission embodies significant 20th century artistic, feminist, and global developments. Hicks was the first artist to explore textiles as site-responsive architectural elements—walls or even rooms—liberated from the loom and exploding into three-dimensional sculptural forms. In so doing, Hicks pushed beyond the spatial constraints experienced by women artists of her time, who were largely ignored by art galleries and museums.
Original installation of Vineyard/Gold Grapes at MGIC. Photo by Ezra Stoller, 1973.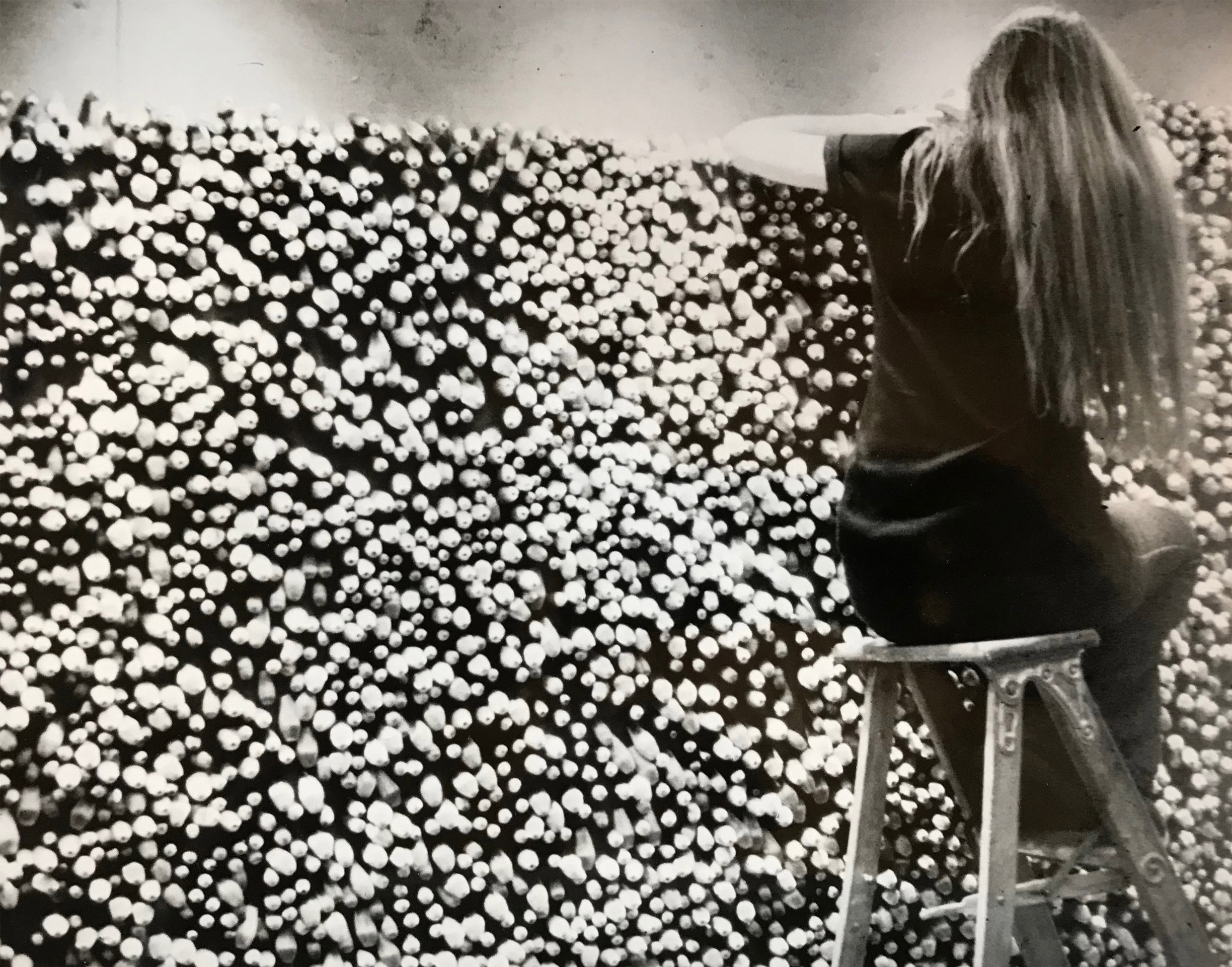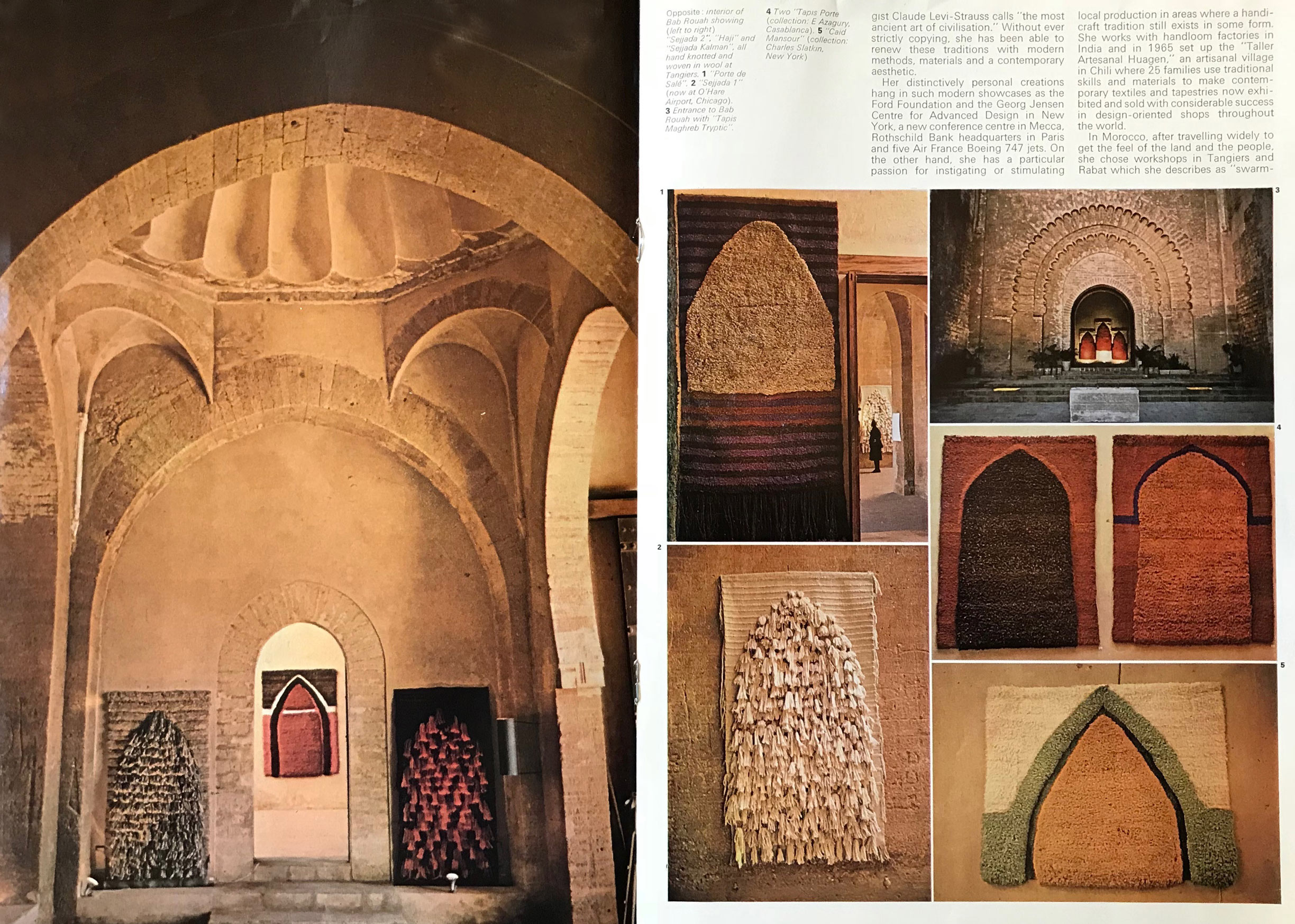 Hicks connected Milwaukee to a global exchange that included Latin America, Asia and Africa. Before and during her work for MGIC, Hicks studied Andean textile techniques; created installations for the Banco de Mexico and a Saudi Arabian conference center; established artisan workshops in Mexico and Chile; was commissioned by the Moroccan government to revitalize its traditional carpet industry; and annually designed the export collection of the world's largest and oldest hand-weaving workshop in Kerala, India.  In addition to her signature MGIC textile walls, which interweave these global influences, Hicks introduced the plaza planners to the work of artists and artisans from South America, India and Morocco, whose textiles, paintings, prints, and sculptures were incorporated throughout the headquarter buildings.
"Radical Rugs from Rabat," images from Sheila Hicks' Moroccan commission, Betty Werther and Marc Riboud, Design Magazine, June 1971.
Sheila Hicks' Aubergine invokes Bacchus, the Roman god of fertility, who wandered the world teaching people how to grow vines. This sumptuous textile feast incorporates Hicks' own global wandering, particularly to North Africa, where she collaborated with women weavers to revive the Moroccan carpet industry. "I am lying in bed [in Morocco] thinking about MGIC" wrote Hicks to interior architect Warren Platner in 1971. "I see purple Arabian nights with Bordeaux wine spilled all over, rich deep tones of a luxurious banquet feast, leftovers worth eating." Hicks' Arabian nights ultimately took shape as "a huge, thick, inviting mattress of soft eggplants, saturated with wine and spiced with cognac and marron glacé." In Milwaukee as in Morocco, Hicks raised carpet-inspired wool textiles from the floor to the wall, paying homage to their creation on upright looms and enhancing their marketability. Like her North African designs, Aubergine explodes the tightly packed knots of traditional carpets, releasing the wool's full exuberance into three-dimensional relief in a rich array of colors. Hicks also helped disseminate Moroccan textiles around the world, including upholstery fabrics for MGIC President Max Karl's office.
Aubergine de Bacchus (Bacchus' Eggplant), Sheila Hicks, after 2018 MGIC reinstallation.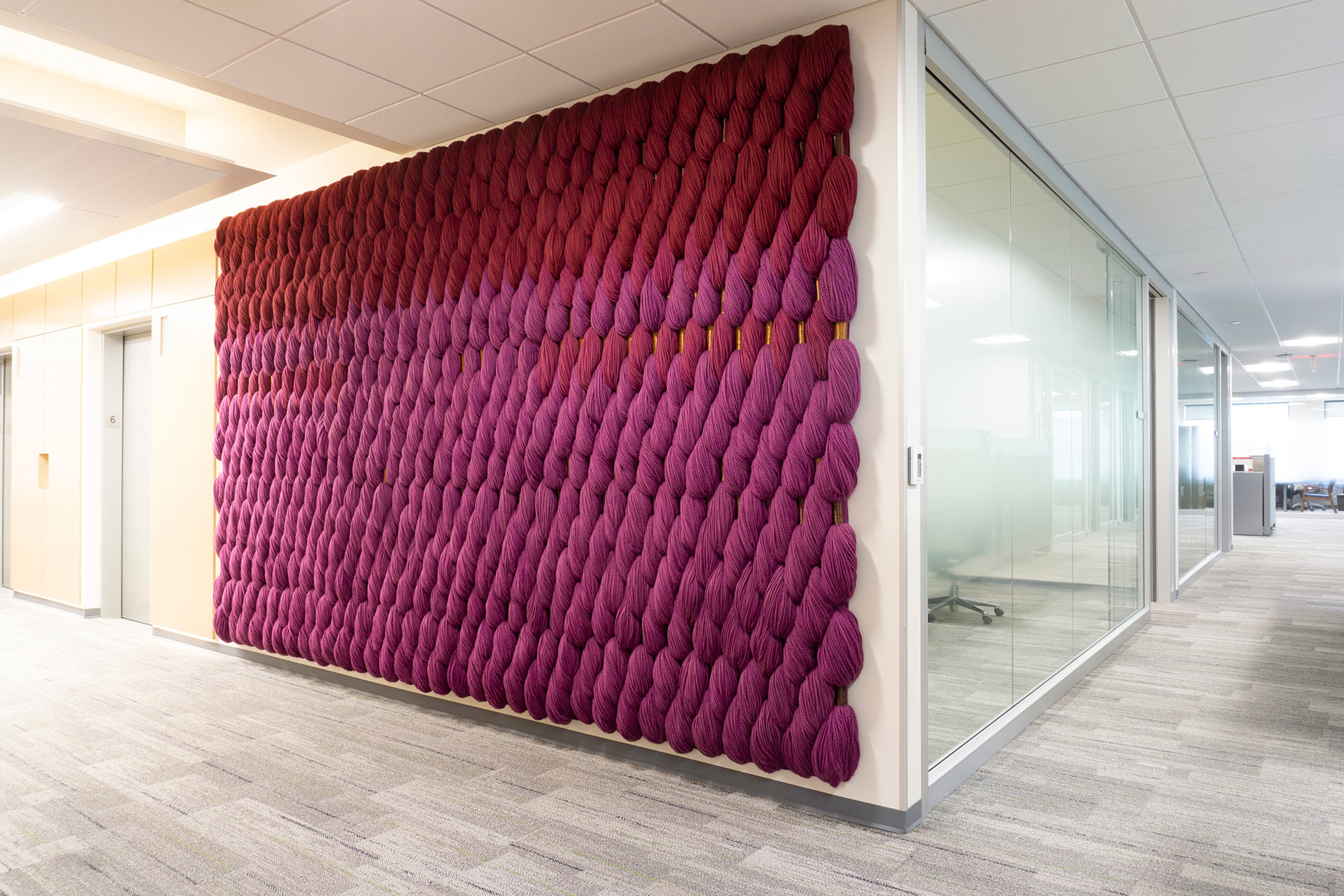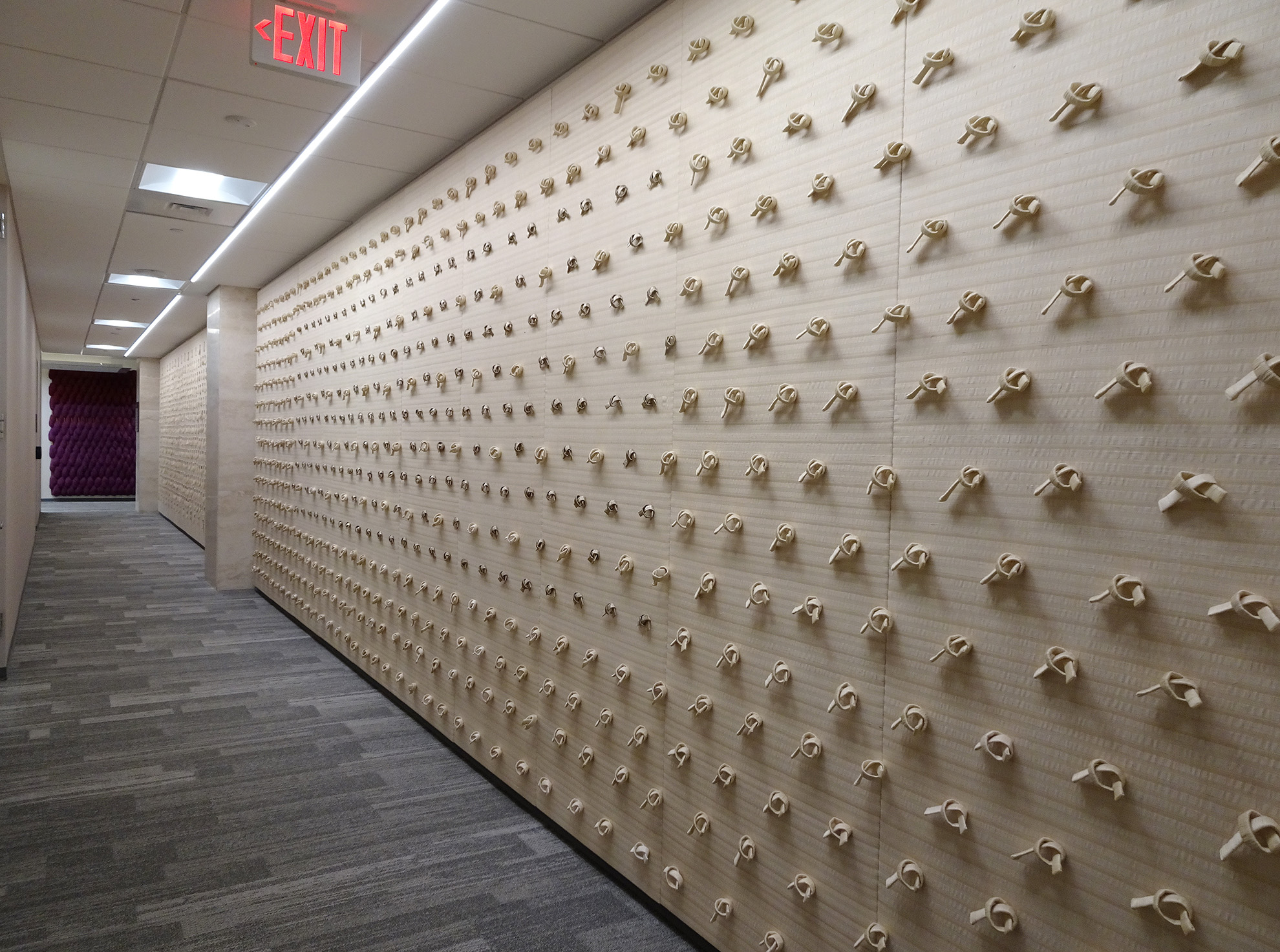 Echo I & II reflect the planners' vision of the MGIC headquarters building as a "complete fabric" of unified structural and interior details. Hicks repeats the 1973 plaza design in their massive scale, colors (ivory, bronze, teak and gold), materials (natural fibers and metals), and form (symmetrical panels with raised textural details).  Wrapped and knotted motifs build on her study of Andean textile techniques, incorporating linen and goldwork threads. The striped silk fabric was woven in India by the Commonwealth Trust Ltd, the world's largest and oldest hand-weaving workshop, where Hicks worked with local weavers to develop commercially viable designs for a rapidly globalizing marketplace.
Echo I (left) and Echo II (right), Sheila Hicks, after 2018 MGIC reinstallation.
Primary conservation treatment took place in an offsite warehouse, where Warren Platner's original furnishings and other corporate castoffs generated multiple echoes of the 1973 headquarters building. Repair and reinstallation of the six large multi-panel textile walls necessitated a corporate treatment plan involving conservation assistants, frame and mount specialists, art handlers and lighting consultants as well as coordination with MGIC building operations staff and construction workers refurbishing the interior headquarters space.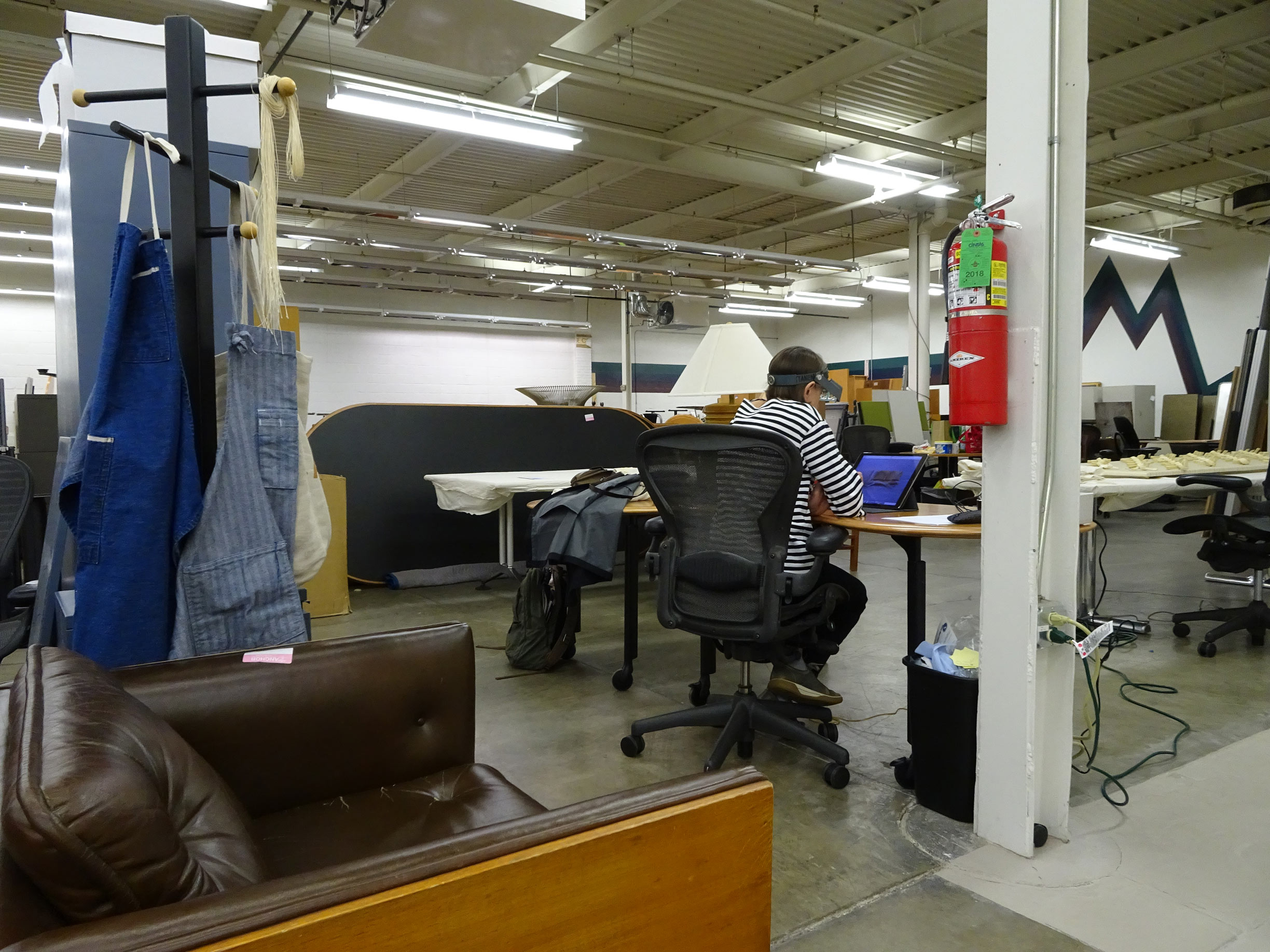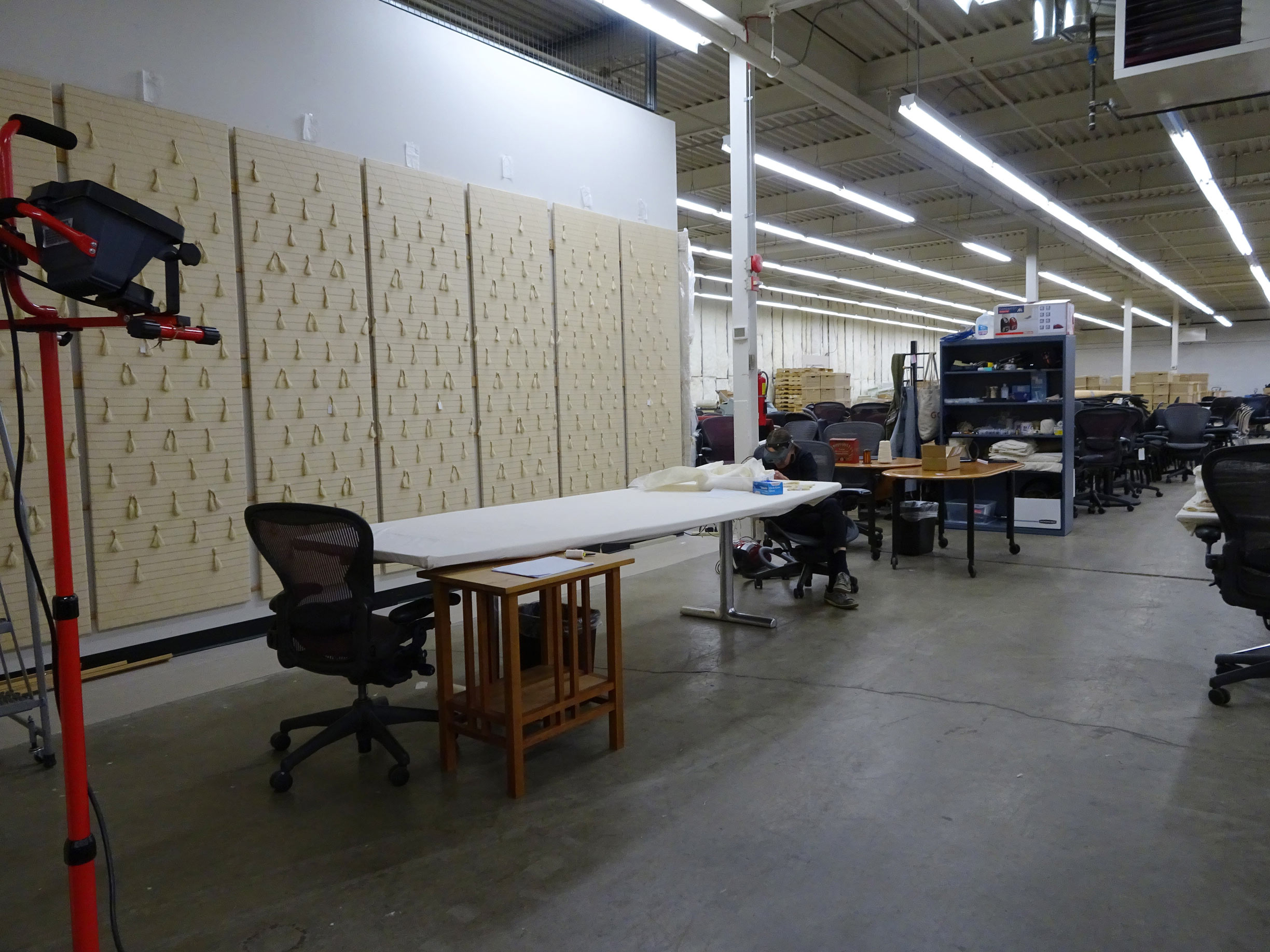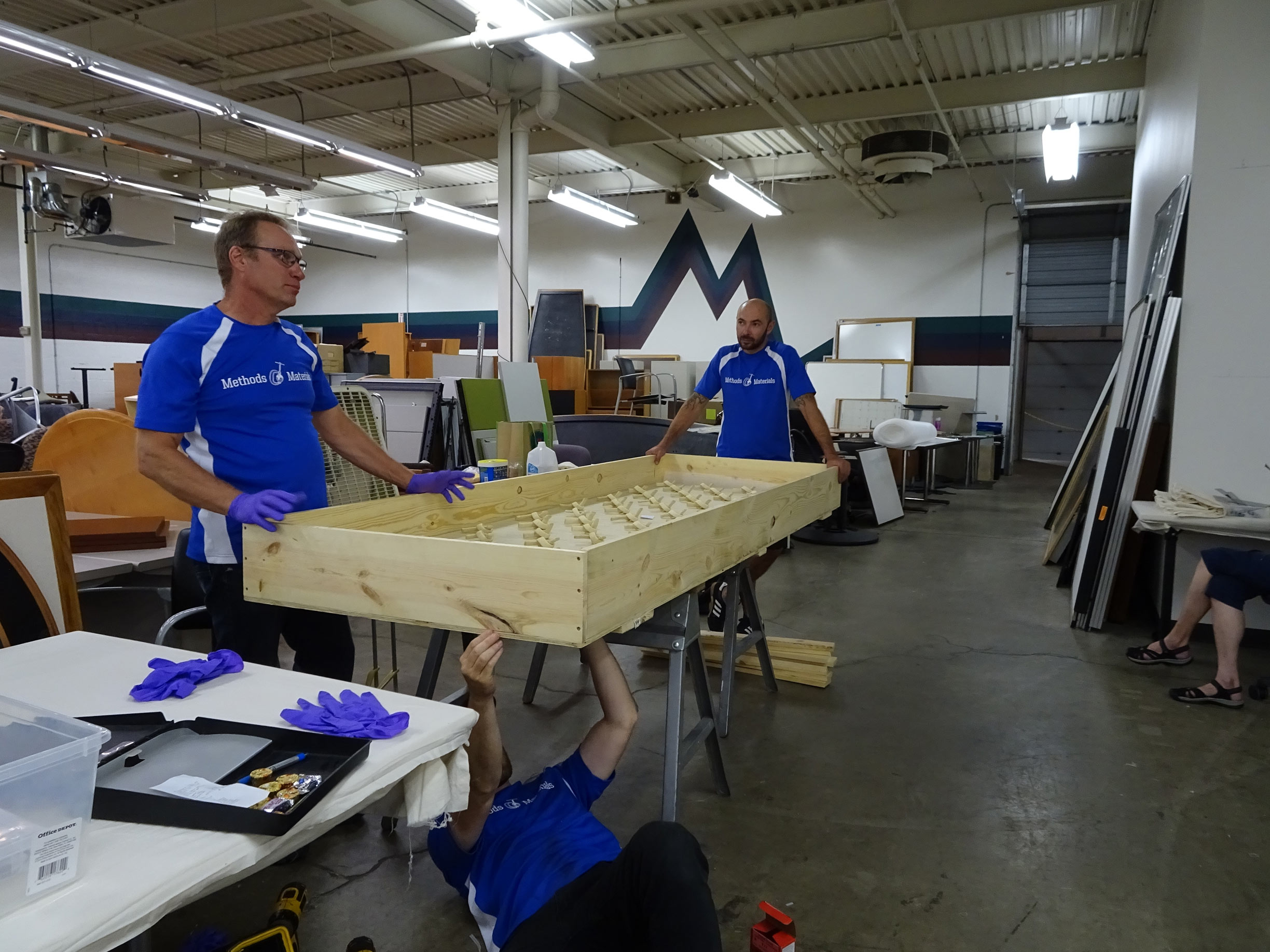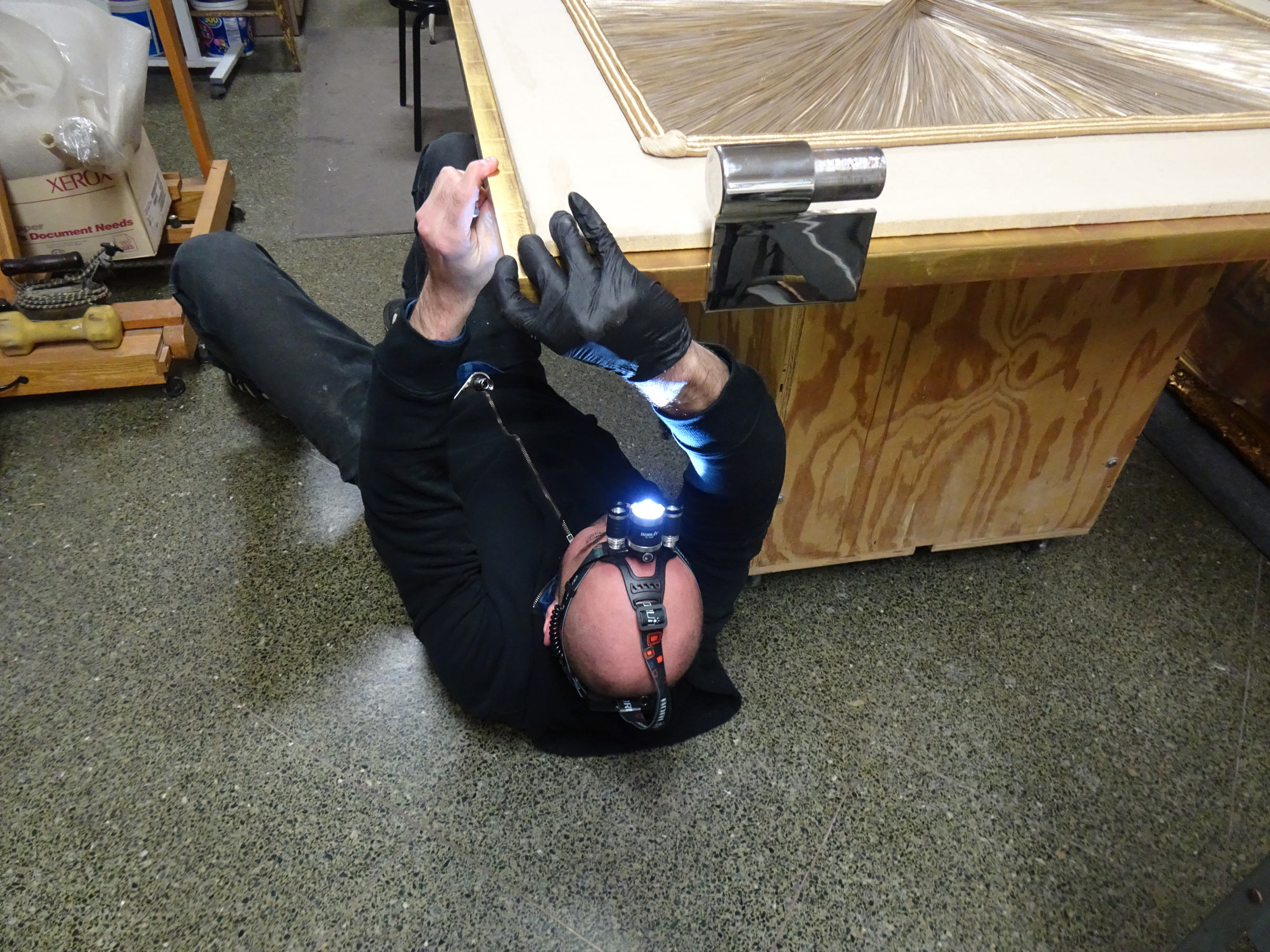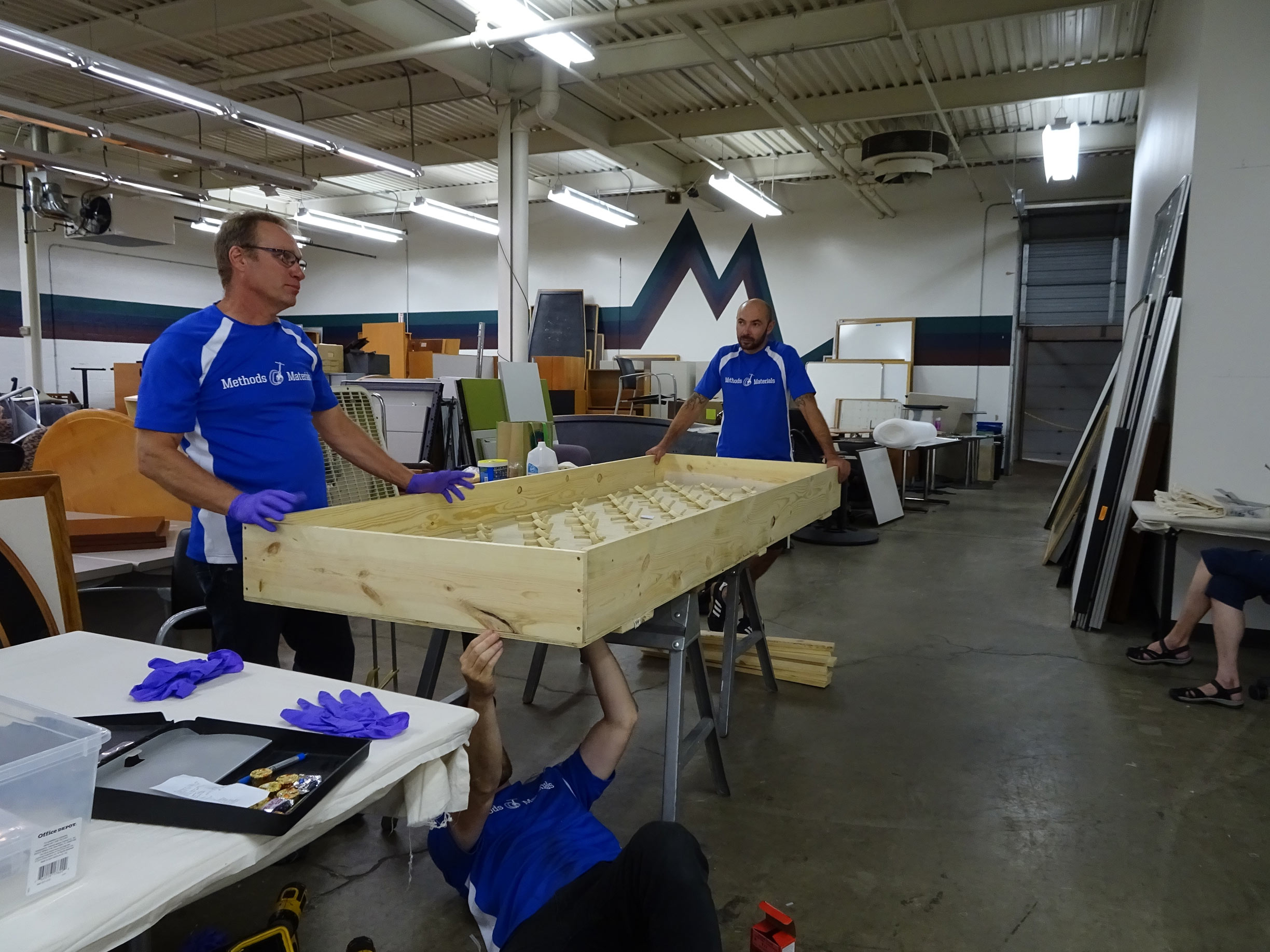 Vineyard/Gold Grapes emboldened an executive conference suite at the heart of MGIC Plaza, in a corporate board room known as the "inner sanctum." Hicks envisioned a vineyard in full bloom with clusters of jewel-like gold grapes, which were handmade by a French passementier. Interior architect William Platner encouraged Hicks to pack the grapes as densely as possible (2100 per square meter) and justified the additional expense to MGIC: "we could do something less than this, but it does not seem right to economize on such an important space." The entire board room was finished with the linen covered wall panels that support Vineyard's gold grapes.  Fabric covered panels predominated throughout the plaza interior, introducing a subtle textural vocabulary of linen, silk, wool, and other fibers "not as an ornament but a construction material" that softened sound and added visual depth. Incorporating textiles from India, Morocco and beyond—often selected or designed by Hicks—the textural walls were punctuated by her spectacular bas reliefs.
The installation was damaged by long-term display under fluorescent lights, which differentially faded the linen margins. An undocumented early restoration involved harvesting over 1300 grapes from the original installation and restitching them over the faded margins, considerably thinning the vineyard. Following consultation with the artist and an analysis of 1973 photographs, the harvested grapes were returned to their original configuration for the 2019 reinstallation.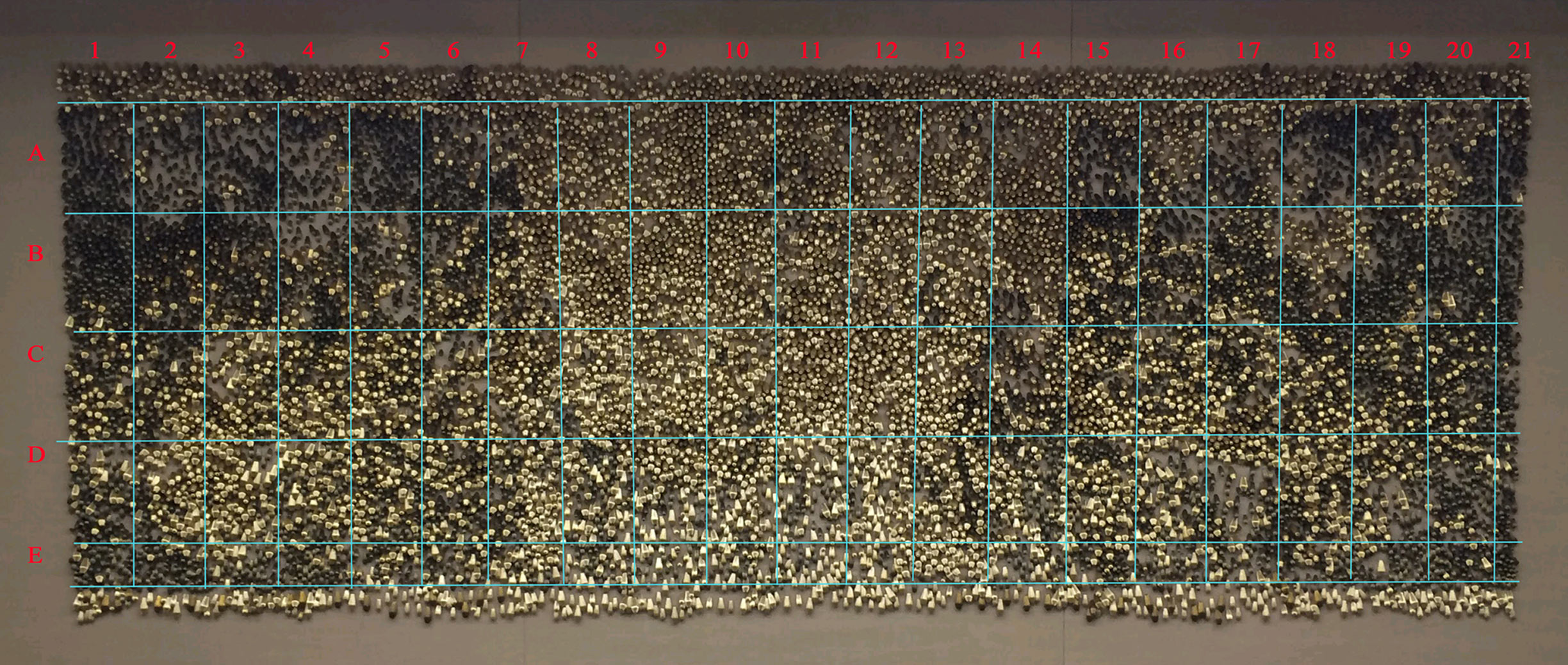 Vineyard/Gold Grapes, Sheila Hicks. Original 1973 installation (top) and 2018 analysis of undocumented alteration (bottom).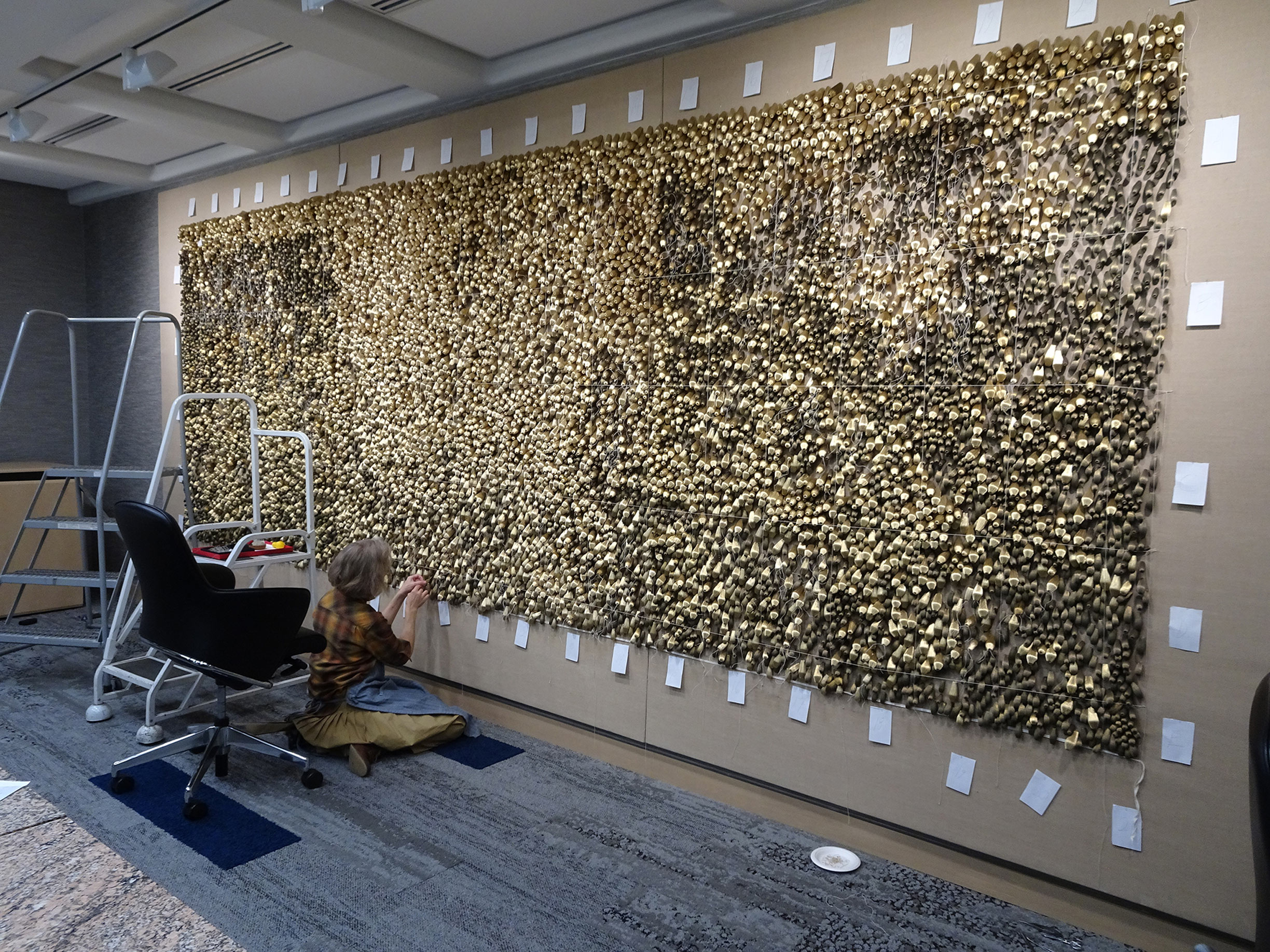 Vineyard/Gold Grapes, during 2019 conservation.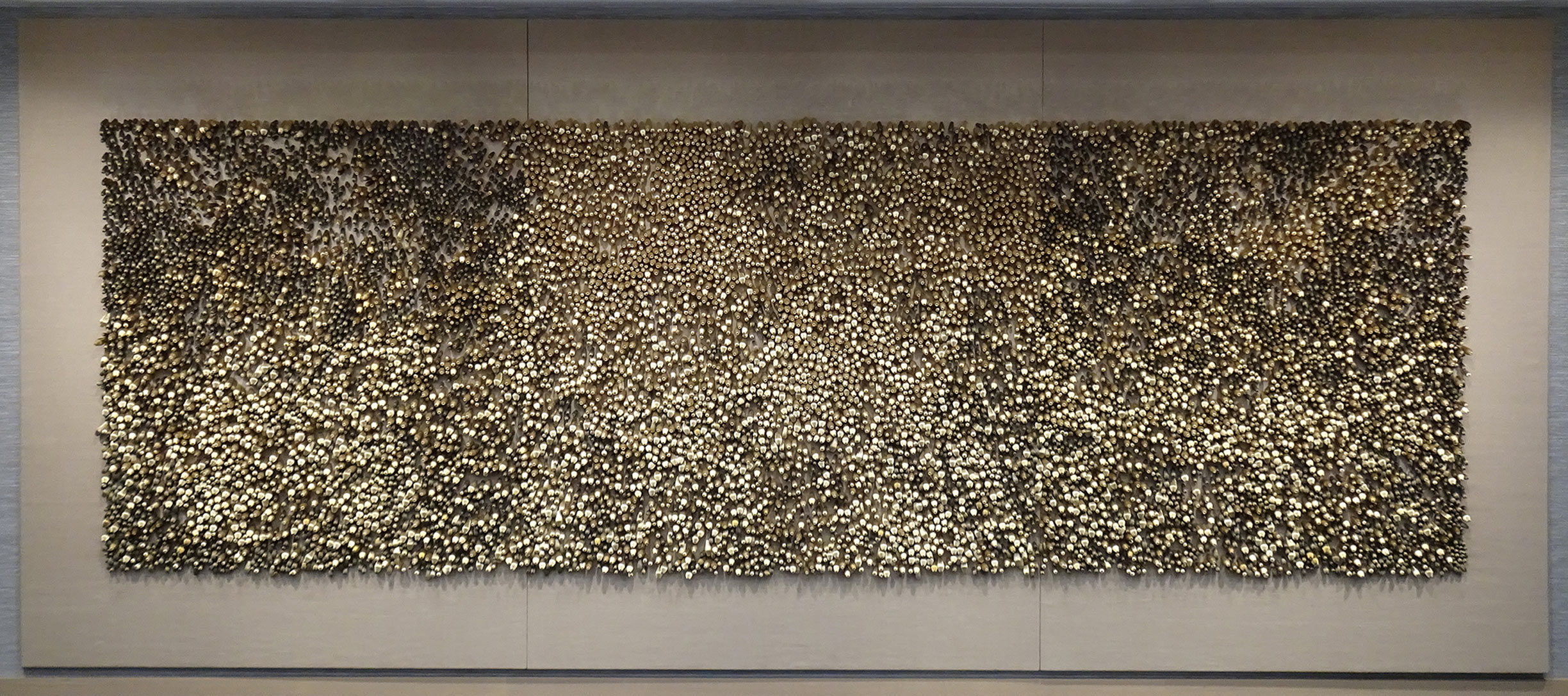 Vineyard/Gold Grapes, after 2019 restoration.